At Curt's Postal Unit we can mail your important documents, bills, letters, and packages around the world. We offer the same service and price as any Main Post Office at the same price, from forever stamps to mailing priority or express. Do not wait in long lines wait in long lines for your mailing needs. To know more about our Postal service give us a call.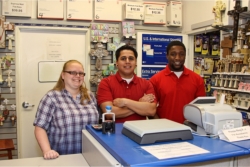 We offer the following services:

Stamps - Forever,First-Class, & individual stamps

Shipping and Tracking - Certified & Registered

Drop Off Location for pre-paid letters & packages , Free Priorty & Express boxes

International Mailing including customs form.

Priority and Express Mailing